Start: Portage, WI
Finish: Mahtomedi, MN
Miles Today: 273
Miles to Date: 14478
Trooper Mileage: 183399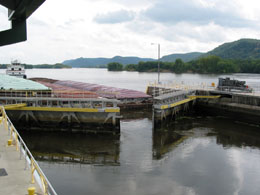 Between Minneapolis and Sait Louis there are 27 locks to pass boat and barge traffic up and down the Mississippi. The lock I visited, Lock #6, is just south of LaCrosse, Wisconsin. One of the operators there cheerfully answered questions, and a number of informational displays were set up in an observation area with pertinent facts and figures.
This lock does 1400 lock operations a year. a "lock operation" typically involves a river tug moving a "tow" of about 15 barges.
The barges carry everything from petroleum products to ores to grains - anything that can be pumped, scooped, shoveled or siphoned. Each barge can carry the same amount of material as 15 railroad hopper cars or 58 trucks. Each tow of 15 barges carries the same as 2 1/3 "unit" trains (a unit train is a little over a mile long) or 870 trucks.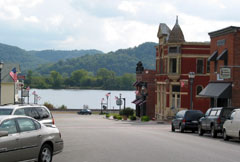 I continued up the river from LaCrosse on the east side, through a few towns. Most of the area along the river here is still very rural, and the few towns are mostly small. This town, Trempealeau, Wisconsin, still looks a lot like it did when Mark Twain was writing about Life on the Mississippi (except for the paved roads and the cars, of course).
A few miles north I actually crossed the river into Winona, Minnesota, and from there I continued north to Mahtomedi (east of Saint Paul) to the home of Kass and Mary, where I planned to spend a few days.